Arta app on Shopify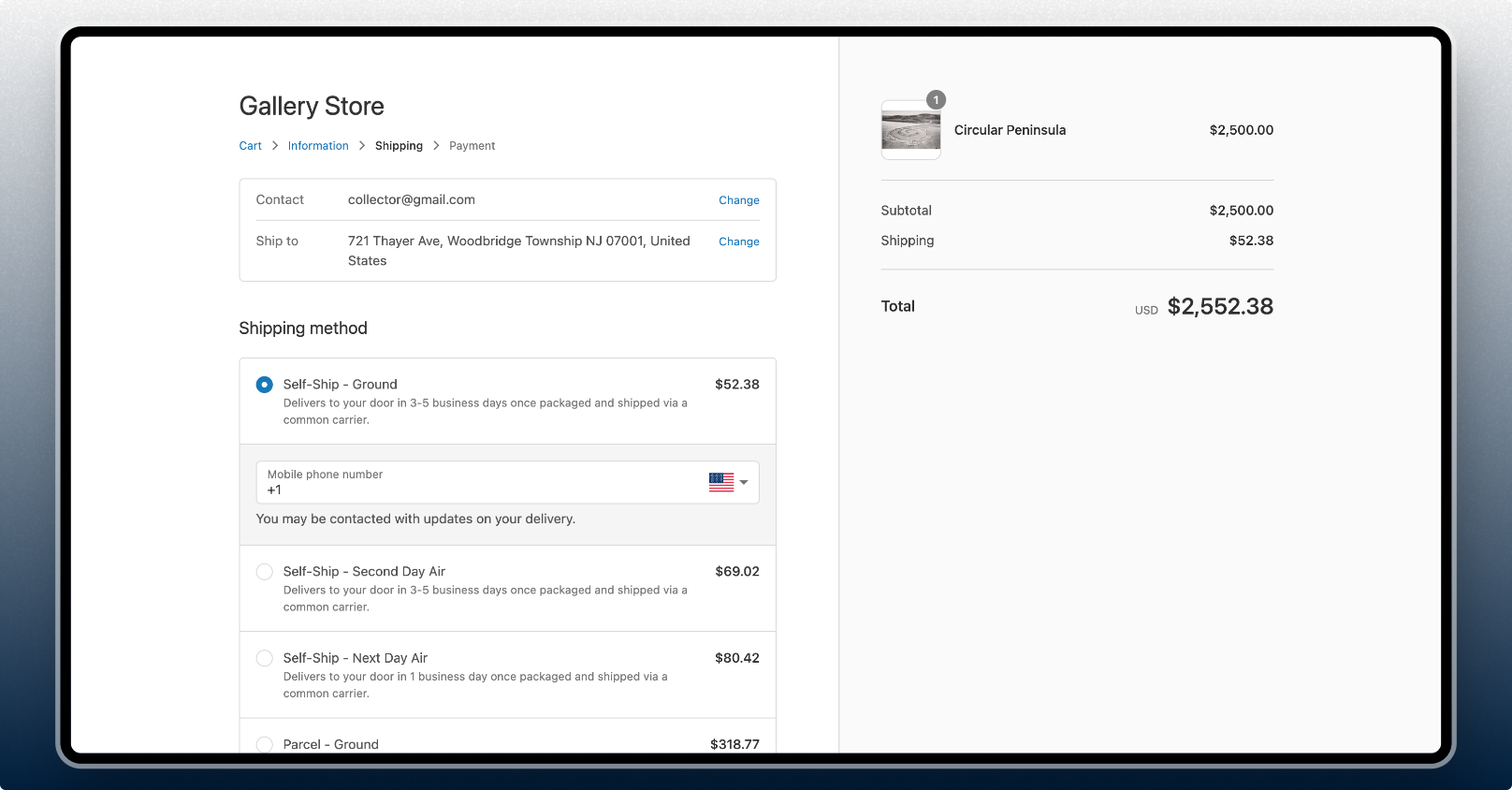 App overview
Arta's Shopify app makes it easy for sellers of unique and high-value items to automate global fulfillment while providing transparent white-glove checkout and post-purchase experiences for your buyers. Specifically, our app enables:
Checkout integration – Surface real-time shipping quotes from Arta to your buyers directly in Shopify's checkout.
Fulfill from Shopify – Process orders, book shipments, and get tracking conveniently from the Shopify admin.
Benefits of Arta
The Arta Shopify app leverages the powerful features built into Arta's platform and API including:
Self and full-service shipping tiers – From simple label generation with Self Ship to automated fulfillment with services that include collection, packing, condition reports, and more with Parcel, Select, and Premium.
Insurance – Offer your buyers peace of mind on their purchases with Arta transit insurance.
International – Rely on Arta to facilitate customs documentation and cross-border logistics.
Post-purchase tracking – Keep your buyers informed about the status and progress of their orders with branded tracking pages, emails, and SMS messages.
Getting access
Arta's Shopify app is currently in a private beta testing period. We are actively adding new features and iterating on the core experience during this time.
The app is installed through private distribution and uses Shopify's CarrierService API to connect your Arta account to your Shopify store. The CarrierService API is only available to Shopify accounts on an "Advanced" plan or higher, on a yearly billing plan, or that have added the carrier service feature for a monthly fee.
If you run your store through Shopify and want to work with Arta, contact us at hello@arta.io for access.